Optimized for DIGITAL TV reception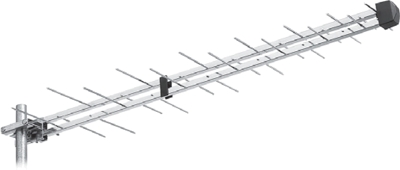 • Receives all digital channels
• Unique design and compact size
• VHF and UHF reception
• Mounts both horizontally and vertically
• Saddle & Screw Coax or "F" Connection
• Includes Analogue Station Reception too
• With good reception for Analogue CH2
• Compact with excellent performance

Technical information
Bands UHF
Channels 21 - 69 AU
Bandwidth UHF-470-862 MHz
Maximum gain </= 10 dBi
Front-to-back ratio </= 36dB
Return loss -15dB
Beamwidth (-3dB) +/-28 deg.
Wind load @120km (720N/m2) 3.0Kg(30N)
Impedance 75 ohm
Maximum mast diameter 60mm
Dimensions (L x W) 94mm x 32mm

Code: LP45HV

NOTE: WES Components does NOT offer courier transport for TV Antennae delivery, sorry.
These items are listed for our local customer Sydney Pick-Up from our show room ONLY.

Brochure Download Specifications

Trade Price Listing WESNEWS July 2010

Antennae Accessories (Wagner 9-23)